Welcome to the Malonda Lodge Hotel & Restaurant!
A real "jewel" of the city of Pointe-Noire, Malonda Lodge is a dream place to escape, meet and relax in extraordinary settings.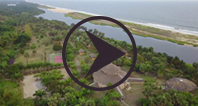 Decorated in a traditional African style, our hotel bungalows are nestled in the heart of a magnificent tropical garden and its spectacular ocean view. The park stretches over five hectares and runs along the edge of a peaceful lagoon and an endless beach.

Come watch the sunset, take a stroll on the beach, spend the night or the day, and enjoy our exceptional cuisine in this little corner of paradise.
Restaurant opens every day from Noon to 9 pm.
The Hotel
Guest rooms at Malonda Lodge provide the perfect luxurious African retreat. Our bungalows have sensational ocean views with complete privacy and comfort. Each bungalow in our hotel is exquisitely designed, featuring classic African décor and generously appointed with personalized services. Learn More
The Restaurant & Bar
Our hotel offers an exquisite gourmet seafood restaurant with breathtaking coastline views as well as a wine and cocktail bar. Enjoy organic vegetables, fruits and herbs from our garden as well as poultry and meats from our farm. Learn More
Day Use Pool & Bungalow
Come spend the day at Malonda Lodge by the pool! Enjoy a nap in one of the bungalows rocked by the soft sounds of the birds chirping and ocean breeze... Learn More
Activities
Many activities are available on-site including swimming, tennis, beach volley-ball, ping-pong, pétanque, star-gazing, bird watching, and of course, dining and relaxing. You will mostly enjoy our 100 feet long swimming pool overlooking the Atlantic with its private bar serving drinks and breakfast. Learn More
Event & Catering: Birthdays, Anniversaries and Seminars
Many special occasions are celebrated at our hotel and it is always a pleasure to design the perfect setting and create a unique menu for your special occasion, whether a wedding, conference, anniversary, or seminary. Learn More
Location
Just 30 minutes away from Pointe Noire on Djeno's Road, and only 20 minutes from the airport, Malonda Lodge is the perfect destination for business or a romantic and relaxing luxury vacation and family vacations. Learn More
Enjoy inspiring views from your private balcony, kick back and relax, we hope you'll savor every moment you spend with us. We look forward to seeing you soon!